Katie Moffit, DDS, MSD
Changing Smiles, Transforming Lives
I feel fortunate to have found a career that I would not describe as work: I find so much joy in my daily interactions with patients and their families, as we work together to achieve the most beautiful smiles!
My path to becoming an orthodontist started when I had braces. The day my braces were removed, and I saw that amazing new smile for the first time, was incredible. The results of treatment had such a positive influence in my life that I knew I wanted to make the same difference for others.
I started practicing orthodontics in Alexandria alongside Dr. William Sansing. I am committed to living up to his high standards for quality treatment, a warm, friendly experience, and finished smiles that transform each patient's life.
One of the best parts of orthodontics, beyond being surrounded by smiles all day, is the relationship I am able to develop with each patient. We start as acquaintances and as treatment progresses we become friends: that is a priceless experience and one I am lucky to experience over and over. Being part of a person's smile journey is beyond rewarding!
The Moffit Orthodontics Team
Our team shares in my passion for teeth and being part of the patient experience. They are tons of fun and want to make sure our patients' and their families enjoy their visits. Our patients are always our priority and we make sure each knows how much we care about them.
I believe we truly can learn something new every day. In orthodontics, there are multiple ways to achieve the same results. I want to make sure I am staying up-to-date with the latest options and combining those with the tried and true methods. This ensures my patients are receiving the highest quality of care.
In order to keep current with advancements, I attend monthly local dental association meetings, the annual national and regional orthodontics meetings, and the annual LSU Orthodontic Alumni meeting. Additionally, I participate in numerous online orthodontic forums and avidly read all of the relevant journals and research.
Professional Memberships
Central Louisiana Dental Association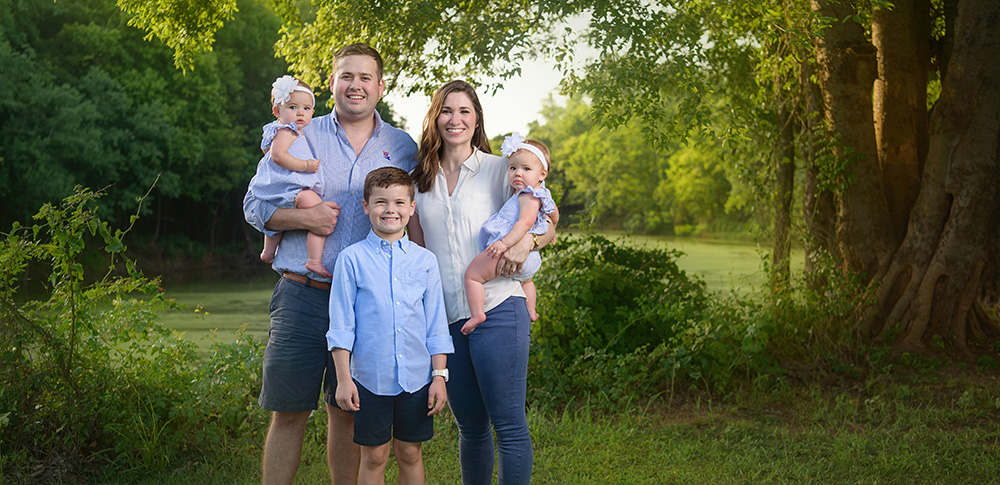 Beyond the Practice
I grew up in Baton Rouge and moved to Alexandria in June 2015 when my husband, Keith, who is an Army ER physician, was stationed at Fort Polk.
Keith and I have three children: my stepson Turner and our twin girls Faye and Elise. We also have two dogs, Manny and Rosco. When I'm not seeing patients I'm almost always with my family and we're usually outdoors. Weekends are spent traveling to spend time with friends and family. Personally, I love to go for a walk or a run – when I can find the time!